Transport boxes in ISO-Standard - tested quality at boxline
By being certified according to DIN EN ISO 9001:2008 standard, we have committed ourselves to supplying transport boxes of the highest quality. Customer orientation, the responsibility of the management, and continuous improvement are the main objectives of the ISO standard. And that suits us, because these were always our own main principles.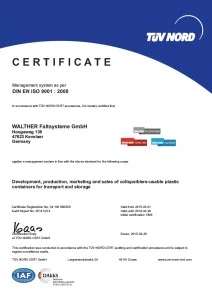 Transport Boxes for the Highest Quality Requirements
However, the pure fulfilment of standards remains a bureaucratic matter, if it is not met in everyday life. You will find our high quality aspirations not only in the transparent business processes but particularly where it matters: In the production of every single boxline transport box.
Because quality is evident especially in everyday life, and our transport boxes show millions of times that they also meet the highest of standards. But it is not statistics that count in transport logistics.

Every single container has to count here. Of this we are convinced and we stand for it. If you would like to know just how transport boxes which comply to the ISO standard are an advantage for you, please feel free to contact us!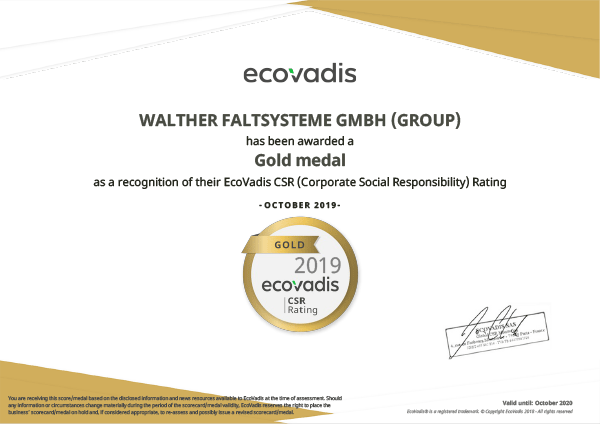 WALTHER awarded Gold Medal by EcoVadis
WALTHER Faltsysteme has been awarded the top-rank Gold rating in Corporate Social Responsibility (CSR) by EcoVadis, the independent global provider of business sustainability ratings. This recognition places our company in the top 10% of all companies assessed by EcoVadis. More than 50,000 companies from around 150 countries use the EcoVadis rating.
The EcoVadis CSR analysis system assesses 21 criteria across four themes : Environment, Fair Labour and Human Rights, Sustainable Procurement and Ethics. WALTHER has performed particularly well in the environmental theme. Numerous documents, audit reports and dossiers were used to determine the rating.
Our TÜV certificate for sustainable energy and environmental management, our variety of take-back, purchasing and recycling programs, and our focus on sustainable and fair relationships with employees and external business partners were just some of the successful factors that helped us score points.